Product was successfully added to your shopping cart.
Details
Italian company La Meccanica Fumagalli established in 1947. The main specialization is slitter rewinders for cash register, POS terminals, ATM rolls and slitter rewinders for paper and cardboard.
La Meccanica Fumagalli cash register slitter rewinders product line
slitter rewinders;
flexo print units inline with the slitter;
automatic core loader;
automatic unloader of rewound roles;
roll breaker and press;
shrink wrapper for rolls;
packaging machines for packing finished products in boxes.
TRL Series Cash Register Slitter Rewinder
Machine can be produced for parent roll widths from 550 up to 1720 mm incorporating varying degree of automation. Optional automatic tucker (loading of material edges onto winding cores) increases productivity.
It is possible to equip the machine with a hydraulic roll lifter on unwind, double and triple unwinder for 2-3 layer tape, with winding on cores and coreless. Optional inline flexo print units allows to produce roles with customer's specific print.
Technical data La Meccanica Fumagalli TRL
working width 550 - 1720 mm;
materials - paper 25-120 g per sq. m .;
cutting speed up to 300 m / min (280 m / min with printing);
max. unwind diameter 1250 mm;
unwind core diameter 76 mm;
max. rewind diameter 300 mm;
rewind core diameter 9-13 mm;
min cutting width 25 mm.
To increase the productivity of the slitter rewinder and subsequent technological operations, the company offers additional machines and modules.
Core loader La Meccanica Fumagalli CAC
The machine is equipped with a rotating reservoir drum for loading of the rewind cores.
The operator feeds the rewind axis, which must be filled with cores, and they automatically put on the axis in a few seconds.
For machine operation it is necessary that the cores do not fit very tightly on the axis. Type of core material is not important for operation.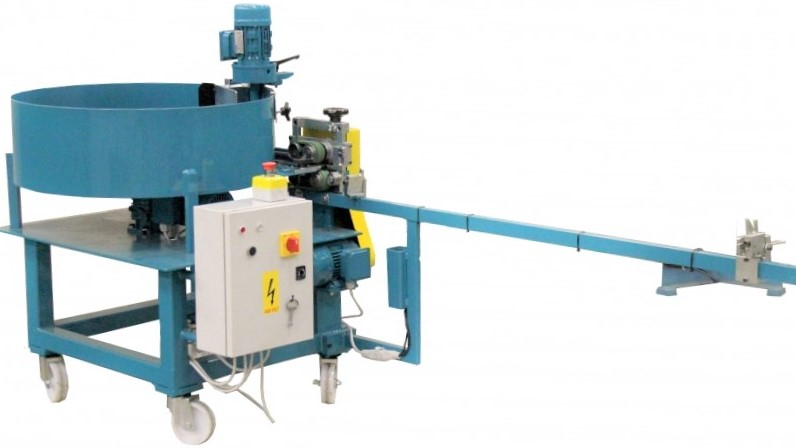 Technical Data:
min. core length 35 mm;
max core length 120 mm;
max outer diameter 27 mm;
max thickness 4 mm.
Automatic line for breaking and pressing of the cash register rolls La Meccanica Fumagalli RB-PR
The operator removes the roles from the rewind axis onto the conveyor, the roles are disconnected from each other, set up vertically, pressed (flattened).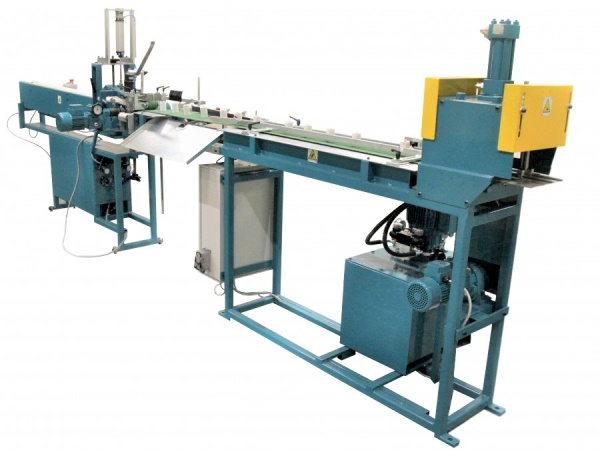 Technical Data:
roll diameter 45 - 130 mm;
roll width 37 - 120 mm;
The ratio of diameter and length should allow positioning of the roles vertically, without balancing problems.
Typically, the press output is connected to an automatic packing machine. The use of manual packaging in boxes, a rotary table (in the form of a container for rolls) shall be installed, which collects rolls from the press conveyor.
The automatic shrink wrapper with a thermos tunnel La Meccanica Fumagalli AM60-SM
Packs one or two rows of rolls in a shrink film.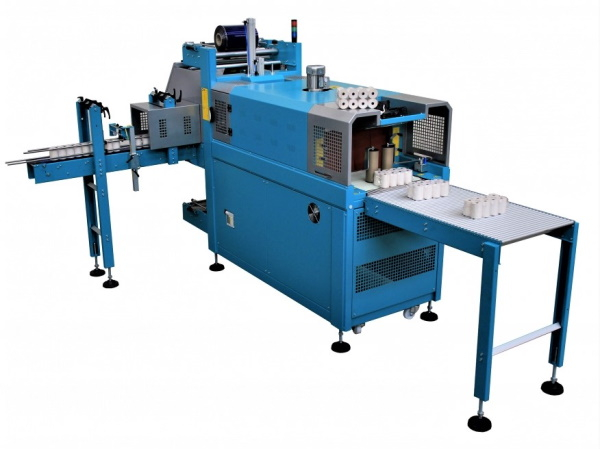 automatic welding and trimming cycle;
welding temperature is adjustable for different types of film;
max entrance height - 29 cm;
conveyor with a speed variator;
max diameter of film roll - 35 cm;
two film unwinds - upper and lower - automatically activated by gear motors during the packing cycle;
thermal tunnel with adjustable temperature up to 220 ° С;
tunnel entrance dimension 51x28 cm;
output conveyor for packed rolls, with drive;
productivity 6-12 packs / min. depending on roll size.
Pressing machine for cash register roles with manual feed La Meccanica Fumagalli PR
The machine has a table for manual feeding of the roles onto the conveyor, which feeds them into the pressing zone. The delivery is made on a round rotating table.